Using Lasers for Reducing Fat?
Are you looking for a proven solution to reduce fat?
Do you have specific areas of your body that aren't responding to diet or exercise. While you're interested in a procedure that removes fat from targeted areas, you don't want to undergo a procedure that requires surgery or a lengthy recovery period.
Erchnonia's Zerona procedure uses low level laser therapy to remove fat from specific areas of the body or to assist with body contouring. Here's what you need to know about the procedure.
NO BRUISING, NO SWELLING, NO FREEZING, NO DOWNTIME
What is Zerona?
Zerona is a procedure developed by an innovative company known as Erchonia. Erchonia holds multiple patents for processes that use low-level laser energy to target certain areas of fat.
The laser is a type known as a low-level laser, and it uses a technique known as low-level laser light therapy (LLLT) or photobiomodulation (PBMT).
While the low-level laser's energy will disrupt your fat cells, it won't damage any of your other cells or bodily tissues.
The Science Behind Laser-Assisted Fat Reduction
Zerona uses low-level laser therapy to apply low amounts of energy to intracellular fat. The energy emulsifies and shrinks your body's fat cells by disrupting their cell membranes.
This causes fatty materials to trickle out of the cells, causing the cells to decrease in size. The body's lymphatic system then removes the fatty material from your body.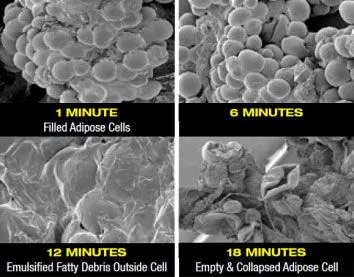 You're left with smaller fat cells that help you look slimmer while continuing to better regulate your metabolism and support your immune system.

The type of laser used for the Zerona process provides photonic stimulation and doesn't generate heat. Thanks to the lack of heat, you don't have to worry about burns when using this form of non-invasive fat reduction.

The use of low-level laser therapy means that the photons produce the energy that disrupts your fat cells rather than your fat cells being heated or "melted" away.
The Zerona procedure is safe and approved by the FDA for eliminating fat. There are no side effects associated with the procedure, and you don't need any type of anesthesia during your sessions.
Is the Zerona Procedure Safe?
The Zerona Z6 is FDA Market-Cleared, non-invasive and clinically tested. The Zerona shrinks fat cells instead of killing or destroying them, making it safer and more effective than other procedures.
What if we told you that fat cells were essential to the health of your body's day to day functioning? Yes, fat cells. Those burdensome cells that you struggle to lose with hours at the gym and days of sugar-free, low-carb diets. They're actually important pieces of your body's overall health and functioning. Sometimes, we just have enlarged fat cells, a problem that Zerona Z6 can solve without harming them. Watch the video to learn more!
Most of us think of our fat cells as the enemy, simply accumulating "volume" to form saddlebags, love handles, and muffin-tops, basically robbing us of our youthfulness and self-confidence. Because of this, many turn to elective procedures that focus on the elimination of fat calls – procedures like liposuction or fat-freezing techniques. However, as intuitive as this might seem, recent medical research into how fat cells actually work now tells us that this approach, in the long run, is not only ineffective, it could actually be counterproductive. Statistics show that killing fat cells can at best provide temporary improvement in your appearance, and within the first year, the fat cells will regenerate or grow larger in new areas of your body to compensate for what was taken (perhaps our organs attempt at healing itself). This can result in those killed fat cells regenerating up to 300 billion within 4-5 years.
Where Can Erchnonia's Zerona Laser Be Used?
The Zerona laser is FDA cleared to target and remove fat from the following areas of the body:
Arms
Hips
Thighs
Neck
Waist
Chest
It's possible to remove precise pockets of fat with the Zerona procedure. If you have stubborn fat that likes to bulge over your pants, you can request that your treatment target these areas.

Or, perhaps you want your thighs to have a different shape. Zerona is a successful option for removing fat from certain areas of your inner or outer thighs.

How Many Inches Will I Lose?
Clients in our clinical trial study lost an average of 3.72 inches in just six, 40 minute sessions. However, individual results using Zerona may vary.
What are the Benefits of Laser Fat Loss Treatment?
One of the top benefits of the Zerona procedure is that it's nonsurgical and noninvasive. The laser is applied externally to your selected areas and doesn't have to penetrate your skin.
Thanks to the low levels of energy, you don't experience any pain or discomfort during the procedure.
The procedure itself is short, lasting 40-50 minutes depending on the selected treatment spots. Most patients find that the procedure is relaxing; they choose to read or rest quietly during their treatment.
There's no downtime after the procedure, and you can resume your normal activities on the day of your appointment. After your Zerona session, there are no activity restrictions.
Another advantage of the Zerona process is that it shrinks fat cells rather than killing them. Even though it may seem like killing fat cells is the preferential option, it's important to remember that fat cells have other purposes in your body.
Fat cells support your metabolic and immune processes; by shrinking them, they're able to continue these important functions while providing you with your desired appearance.
How Many Zerona Treatments Do You Need?

Your exact treatment schedule will depend on your goals and current fat levels, but most individuals have one to two sessions each week for a total of eight to twelve total treatments.
How Long Do the Results from Zerona Last?
The results from Zerona are long-lasting, especially if you work to maintain your weight and engage in healthy diet and exercise habits. If you eat more calories than your body needs to support your weight, this can cause your fat cells to expand.
When Can I See Results?

This will depend on the client and their body type, and how quickly their body is able to process the fat. With some clients, results using Zerona will be seen after a few treatments, others will see results towards the end of the treatment cycle as their body will take more time to process the fat.
Most clients see results a few weeks after they undergo their first treatment or towards the end of their treatment cycle. It takes time for the lipid materials to ooze out of your cell membrane and be excreted by your body's lymphatic system.

The best way to monitor your results from the Zerona procedure is to take measurements and photos before and after the procedure.
If you're not happy with your results after a cycle of Zerona treatments, it's possible to undergo a second cycle. However, you should also make sure that you're doing everything you can to help your body maintain a healthy weight, like engaging in regular exercise and sticking to healthy eating habits.

You should also avoid smoking and make sure that you're drinking at least eight glasses of water a day to optimize your results. Smoking and dehydration can both interfere with the functioning of your lymphatic system, causing it to take longer for you to see results.
Who's a Good Candidate for Zerona?

An ideal candidate for Zerona is someone who's highly motivated but is looking for some more help getting to their goal weight and size.
Zerona is not a substitute for poor lifestyle habits.
However, Zerona is an excellent alternative for non-invasive fat reduction that removes fat from specific areas of your body, helping you improve your confidence and self-esteem.
If you're pregnant, you'll need to postpone your Zerona sessions until after your pregnancy.
How Much Will It Cost?
Zerona Z6 treatment costs range anywhere from $1,200-$2,500 for 8-12 treatment packages. Be sure to check with the front desk or ask the doctor about different package options. We also offer financing options to make it easier to be able to take advantage of this incredible machine.